KVAR Energy Controller™ Certifications
Demand first from any imposters to inform you of the UL Listed, CSA Certified, RoHS compliant Original KVAR Energy Controller before making any decisions.

The Canadian Standards Association is a not-for-profit membership-based association serving business, industry, government and consumers in Canada and the global marketplace. As a solutions-oriented organization, they work in Canada and around the world to develop standards that address real needs, such as enhancing public safety and health. Advancing the quality of life. Helping to preserve the environment. Facilitating trade. The KVAR Energy Controllers (KVAR ECs™) manufactured by the KVAR Energy Savings Corporation in Daytona Beach, Florida are CSA compliant.

The imop is a custom-built unit manufactured to Ip65 standards with CE approval by KVAR's European technology partner, Minimize. With no moving parts, failure rates are extremely low. Even so, we provide a product warranty for five years. In terms of health and safety, the imop is wired in parallel therefore will not affect the normal working of the inductive load in the unlikely event that a failure occurred.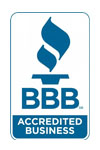 BBB has determined that Kvar Energy Savings Inc. meets BBB accreditation standards, which include a commitment to make a good faith effort to resolve any consumer complaints. BBB Accredited Businesses pay a fee for accreditation review/monitoring and for support of BBB services to the public.

"The definition and aim of the RoHS directive is quite simple. The RoHS directive aims to restrict certain dangerous substances commonly used in electronic and electronic equipment. Any RoHS compliant component is tested for the presence of Lead (Pb), Cadmium (Cd), Mercury (Hg), Hexavalent chromium (Hex-Cr), Polybrominated biphenyls (PBB), and Polybrominated diphenyl ethers (PBDE). For Cadmium and Hexavalent chromium, there must be less than 0.01% of the substance by weight at raw homogeneous materials level. For Lead, PBB, and PBDE, there must be no more than 0.1% of the material, when calculated by weight at raw homogeneous materials. Any RoHS compliant component must have 100 ppm or less of mercury and the mercury must not have been intentionally added to the component."