LATEST UPDATES
Thursday January 25th, 2018
We are excited to see the results at Erectoweld in Oakville Ontario with KVAR Hydro savings and increase Power Factor from the mid 80% to the mid 90% of which now takes away all penalties and reduces all other costs of the Hydro bill. KVAR along with the Smart Valve for water savings and the ECO-Clamp for Fuel savings helps to combat other increased cost.
LATEST UPDATES
Friday January 12th, 2018
We are very pleased to now have many Tim Horton's in Ottawa join other locations who have installed our KVAR Hydro Saver along with our Smart Valve to reduce water cost and our ECO-CLAMP to reduce Fuel Cost and emissions to help offset the new minimum wage hike.
We are pleased to now have St Louis Bar & Grill along with Shoeless Joes reducing Energy Cost To Help offset the new Ontario government's new Bill 148 minimum wage increase. It is also exciting to see more companies taking advantage of our Smart Valve for Water Savings, today's rising water cost are a great concern. Stay in front and maximize your savings with the Smart Valve such as Montana's and Tim Horton's are doing along with many others.
We are happy to announce we've installed the SmartValve system in 3 new apartment buildings.
We are happy to announce a New Product! The ION ScaleBuster!
An Innovative Approach to Water Conditioning! Inhibits Scale & Corrosion, Reduces Costs, Maintenance & Chemical Use.
ION ScaleBuster is a proven water conditioning technology for general pipework, heating and plumbing equipment, appliances and processing equipment.
Designed for industrial, commercial, and municipal applications, the proprietary electrostatic technology of the ION ScaleBuster works effectively and efficiently – without chemicals, power or moving parts. The hydrodynamic conditions present during operation force the precipitation of crystals in the water. This process prevents the formation of scale and corrosion, and allows the water to absorb scale already attached to internal piping and equipment surfaces.
WEDNESDAY AUGUST 16, 2017
We are very pleased to have another Boston Pizza in Hamilton join in on the savings of our AFER Hydro and Fuel systems!
Apartment Building 36 Front Street, Port Credit ON
The percentage of Water Savings for the period April 6, 2017 to July 10, 2017, with the SmartValve operating for only half of the billing cycle was 12.2%!
Yet another installation of the Smart Valve to reduce water cost in an apartment building in Port Credit Ontario. The Smart Valve was installed by Impact Green Solutions. When you want to save on your water bill give Charlie a call for a quote 416-677-7318 or visit their website impactgreensolutions.com. The Smart Valve is not only a patented product, it is also the best priced product in the market.
MONDAY JULY 31, 2017
How KVAR Hydro Saver Works
When you bring electricity into your establishment from the utility company it is alternating current electricity (60 cycles per second) and you are expecting it to do two kinds of work — resistive and inductive.
When you supply power to an ordinary light bulb, it immediately produces light and in a very short time it also produces heat. The resistance to the passage of electricity creates light and heat. This is called the resistive load.
When supply power to any appliance with an electric coil in it, such as an electric motor or a transformer, the electricity passing through the magnetic field of the coil induces a responsive electrical energy that works in the opposite direction to the electricity that is driving the motor. This is called the inductive load.
Our KVAR Hydro Saver is installed into your electrical system between the electric meter and your main electric panel, and it distinguishes between the resistive load and the inductive load. It does nothing to the resistive load; just leaves it alone. However, due to some of the features of alternating current the KVAR unit captures the inductive load on one cycle, turns it around and gives it back to all the circuits connected to your panel as useful energy on the next cycle. It does that 60 times per second.
KVAR Hydro Saver can be used beneficially in any kind of establishment that has a lot of inductive load generated by fridges, coolers, freezers, air conditioners, fans and pumps; basically, any kind of device that uses motors and all fluorescent lighting that uses a transformer type ballast.
Surge Protection
The KVAR Hydro Saver works as an overall surge protector to guard against major surges of power that come down the utility line from other users (or from a lightning storm).
Reduction of Electric Noise
Whenever a device connected to the electric panel turns on or off or changes speed it creates a blip in the quality of the electricity in the circuit. These can be frequency variations, mini-surges, troughs, harmonics, variations in voltage etc. When this occurs frequently it is referred to as electrical noise, which reduces the efficiency at which electrical devices operate. The KVAR Hydro Saver helps to filter out electric noise.
Reduction in Maintenance Costs
Electric noise creates wear and tear on electric devices. Therefore a reduction in electric noise reduces maintenance costs and extends the useful life of inductive load appliances.
Brown Out Protection
A brown out condition occurs when the electricity demand by the overall community is almost more than the local utility can supply. Because so many applications are turning on and off every second, the result is that on a momentary basis the electricity available can drop below a critical threshold. That threshold varies for different equipment but when the supply drops below a specific equipment is either damaged, shuts off or both. In many cases the KVAR Hydro Saver keeps the in-building electricity supply just above the threshold during brownout conditions.
WEDNESDAY JULY 26, 2017
WATER CONSERVATION & PRESSURE
The supply of water and energy is one of our most critical national problems. If we cannot increase our supply, then it is imperative to reduce our consumption. Fortunately it's been proven that we can conserve dramatically and in a manner which will not seriously affect the lifestyles we have become used to. Water and energy conservation are so intimately intertwined that they are practically synonymous. Any reduction in the usage of water will automatically result in a reduction of the use of energy. What this means, therefore, is that our whole philosophy on the use of water is changing and we are finally recognizing that we have been "water rich" over the years and it is now time to get back to reality by adjusting to our actual needs and to practice good conservation principles.
With water and energy conservation, through the use of water pressure reducing valves such as the Smart Valve is not only in the national interest but provides a significant benefit to the Industrial and Commercial industry along with all homeowners.
What is water pressure?
When a fixture in a business or home is opened and water flows from it, it is because the water is "pushed." This "push" is pressure. The speed at which water flows from the opened outlet depends on the amount of "push" or pressure which exists at that time in the system. In short, the higher the pressure, the stronger the "push" behind the water.
What is wrong with high water pressure?
High water pressure, which is generally considered anything above 60 lbs., has some advantage, such as in firefighting systems. However, in the business or home plumbing system, it can be damaging because water, with a strong "push" behind it, can erode or wear away many materials and cause water heaters to leak, banging water pipes, dripping faucets, excessive dishwasher and clothes washer noise and breakdown, and leaking water pipes. Therefore, water flowing at a rate in excess of that necessary to satisfy normal fixture or appliance demands becomes damaging, wasteful and reduces the life expectancy of equipment in the system. But, most important to the average business or homeowner is that high water pressure can add to the cost of water, energy and waste water bills.
The difference in water flow from a fixture when the pressure is at 100 psi vs. a pressure of 50 psi? Reducing the pressure from 100 psi to 50 psi will result in a saving of approximately 1/3 because 1/3 less water flows at this lower pressure. Remember, there is more "push" behind the water at 100 psi than
at 50 psi and most of this water is wasted. A moderate savings would result if your supply pressure was reduced to 65 psi However, even at this lower pressure, savings would be 20%.
How do these savings benefit the water and energy utilities?
A high rise office building in Chicago was designed using water conservation products which resulted in savings of more than 3,000,000 gallons of water per year. This is significant in that the municipal water utility did not have to pump that extra gallonage, the water purification plant didn't have to treat it, the building itself saved on pumping of 3,000,000 gallons, and there must have been significant savings in energy by conserving hot water. Also, there were further savings by the fact that 3,000,000 gallons of water, or the normal portion thereof, did not have to be distributed to the wastewater system and consequently the water treatment plant did not have to retreat this water. The heating of water takes energy and it should also be remembered that "pumping" water from one place to another also requires a considerable amount of energy.
FRIDAY JULY 14, 2017
The numbers below are for a restaurant in Ontario with billing for April, May & June 2017 showing savings from April $1093.00 May $619 June $434.00 when installing the KVAR Hydro Saver with exception to the Global Adjustment (as per below when electricity prices go down Global Adjustment goes up) and Distribution ( billed on Demand which increased from 69.3 to 79.5) ( bill demand can only be controlled through the hours of 7 am to 7 pm if you can monitor your products on you can reduce the amount) With regards to Global Adjustment the hydro company has no control on this.
What is the global adjustment?
Ontario Clean Energy Benefit. … Originally introduced in 2005 as the Provincial Benefit, the Global Adjustment can be a credit or a charge to the customer to account for the difference between the spot price of electricity and the rates paid to various regulated and non-regulated generators across Ontario.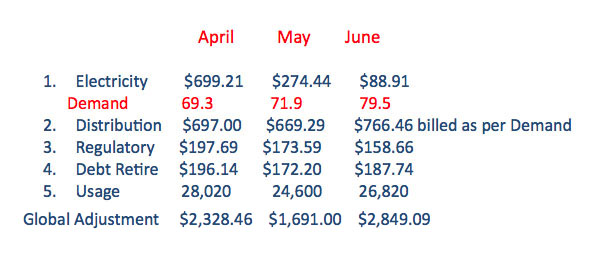 FRIDAY JUNE 1, 2017
Did you know when AFER Inc. corrects your Power Factor this frees up capacity on your supply transformer and allows you to increase your System Capacity?Adding the AFER System helps to add additional load to your system without altering the kVA. When you reduce current from the distribution network you are reducing your Carbon Footprint.
What Is Power Factor and Power Factor Correction?
Power factor is a measurement of how effectively your electrical system converts electric current (supplied by your power utility) into useful power output.
You may be able to find your current power factor indicated on your electricity bill. A low power factor means you're not fully using the electrical power you're paying for, creating significant penalties on your electricity bill, overloading your electrical distribution system, and increasing your carbon footprint.
Power factor can be improved (corrected) by installing power factor correction capacitors. A high power factor of 90% or more will result in more efficient electrical consumption and a lower utility bill.

Benefits of Power Factor Correction
Reduced Utility Bills:
Power factor correction removes power factor penalties on your electricity bill.
Electricity tariffs for industrial and commercial customers have energy and demand rates. Some of these tariffs are structured to increase the cost of electricity if your power factor does not meet a minimum threshold (often 90%). Regardless of how your utility bills you for power, power factor correction can save you money.
Furthermore, a high power factor means your power system is not demanding significantly more power than it is actually using.
Increased System Capacity:
Power factor correction frees up capacity on your supply transformer. Adding power factor correction capacitors allows you to add additional load to your system without altering the kVA.
Improved Voltage Conditions:
Low voltage, resulting from excessive draw, causes motors to be sluggish and overheated. As power factor decreases, total line current increases, causing further voltage drop.
By adding capacitors to your system and improving power factor, you will improve voltage and therefore get more efficient motor performance and longer motor life.
Reduced Transmission Losses:
Losses caused by poor power factor are due to reactive current flowing in the system. These are watt-related charges that can be eliminated through power factor correction.
Reduced Carbon Footprint:
Power factor correction reduces the total current drawn from an electrical distribution network (which affects systems such as the power stations, distribution grid, and supply transformers). In so doing, the heat or transmission losses incurred on these systems are reduced, which reduces your carbon footprint.

Our Power Factor Correction Services
At AFER Inc. we increase your power factor by assessing your current electrical system and installing power factor correction capacitors, which act as reactive power generators and reduce the total amount of current your system draws from the grid.
The typical payback period for investments in our well-designed power factor correction systems is between 3-18 months. Our capacitor banks and power factor correction equipment have a life expectancy of over 10 years, allowing you to save significant money over time.
This graph represents the summary of a yearly customer utility bill before and after the addition of Power Survey power factor correction equipment: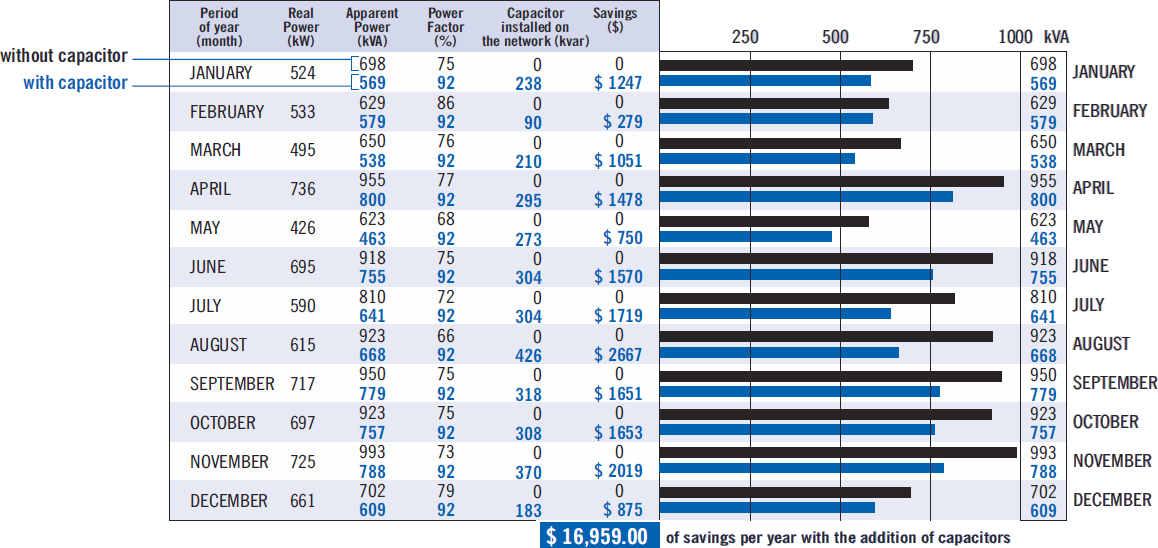 THURSDAY JUNE 9, 2016
We are pleased to receive this recommendation from Fire Inspired Foods on the performance of the KVAR Hydro Saver.
"When I first did business with Gordon I was the Director of Operations at Boston Pizza and he introduced me to the Eco-Clamp.
These clamps are put on a gas line and ensures a cleaner gas and deteriorates carbon build up on the pipes. Pretty good memory eh Gordon! These we put into our only corporate location and we saved anywhere from 10-20% and that's a fact. These were put into over 30 Boston Pizza's and keep in mind they were newer buildings compared to our original 8, so we might save more.
Marco and team, I have seen this product in action and your flame will be bluer or hotter, so any equipment that runs on gas will operate better or hotter, so you'll need to temp the fryers everyday and keep an eye on the high of the flame when something is being sautéed etc."
Tony Pereira
Operating Partner
Fire Inspired Foods
May 27, 2016
Power Factor Savings at Tim Hortons
I am very pleased to announce that Paul Knight from Energy Solutions Now has received news back from several Tim Hortons location. Windsor is no longer paying penalties for being under the 90% Power Factor therefore lowering his Hydro bills along with Ottawa while showing a 95% Power Factor rose to a 100% Power Factor and is saving over 7% on his hydro bills. Great news Paul.
May 25, 2016

KVAR at Streetsville Arena
We are very pleased to hear the results of Streetsville Arena in Mississauga, Jeff had KVAR installed several years back and to date is still pleased with his results. Before KVAR was installed the Power Factor was around 82 % since KVAR has been installed the Power Factor has been over 90 % therefore taking away any Hydro Penalties and lowering Hydro usage and cost along with longer lasting motors.
May 7th, 2016

Your Carbon Footprint
AFER & KVAR continuously Increase Efficiency & Lower Hydro cost by using our highest quality parts with no maintenance required. Our capacitance increases the efficiency of all A/C motors which in turn reduces the peak demand and reduces the voltage. This also lowers the heat build up on all motors which then gives the motors a much longer life and automatically reduces your Carbon Footprint.
April 25, 2016
More AFER and KVAR Installations at Montana's
We are very pleased to announce that Tony Pereira of Fire Inspired Foods who has 10 Montana's has decided to install KVAR Hydro Savers and AFER Fuel Savers at all locations. Tony started with one location with our KVAR Hydro Savers and our AFER Fuel Savers and was so very pleased with the results, he decided to roll them out to all his locations.