LATEST NEWS
Check out some of our latest news updates!
Friday June 1, 2017
Did you know when AFER Inc. corrects your Power Factor this frees up capacity on your supply transformer and allows you to increase your System Capacity?
Adding the AFER System helps to add additional load to your system without altering the kVA. When you reduce current from the distribution network you are reducing your Carbon Footprint.
Friday May 26, 2017
Yet another installation of the Smart Valve to reduce water cost in an apartment building in Port Credit Ontario. The Smart Valve was installed by Impact Green Solutions. When you want to save on your water bill give Charlie a call for a quote 416-677-7318 or visit their website impactgreensolutions.com. The Smart Valve is not only a patented product, it is also the best priced product in the market.
What Is Power Factor and Power Factor Correction?
Power factor is a measurement of how effectively your electrical system converts electric current (supplied by your power utility) into useful power output.

You may be able to find your current power factor indicated on your electricity bill. A low power factor means you're not fully using the electrical power you're paying for, creating significant penalties on your electricity bill, overloading your electrical distribution system, and increasing your carbon footprint.

Power factor can be improved (corrected) by installing power factor correction capacitors. A high power factor of 90% or more will result in more efficient electrical consumption and a lower utility bill.

Benefits of Power Factor Correction
Reduced Utility Bills:
Power factor correction removes power factor penalties on your electricity bill.
Electricity tariffs for industrial and commercial customers have energy and demand rates. Some of these tariffs are structured to increase the cost of electricity if your power factor does not meet a minimum threshold (often 90%). Regardless of how your utility bills you for power, power factor correction can save you money.
Furthermore, a high power factor means your power system is not demanding significantly more power than it is actually using.
Increased System Capacity:
Power factor correction frees up capacity on your supply transformer. Adding power factor correction capacitors allows you to add additional load to your system without altering the kVA.
Improved Voltage Conditions:
Low voltage, resulting from excessive draw, causes motors to be sluggish and overheated. As power factor decreases, total line current increases, causing further voltage drop.
By adding capacitors to your system and improving power factor, you will improve voltage and therefore get more efficient motor performance and longer motor life.
Reduced Transmission Losses:
Losses caused by poor power factor are due to reactive current flowing in the system. These are watt-related charges that can be eliminated through power factor correction.
Reduced Carbon Footprint:
Power factor correction reduces the total current drawn from an electrical distribution network (which affects systems such as the power stations, distribution grid, and supply transformers). In so doing, the heat or transmission losses incurred on these systems are reduced, which reduces your carbon footprint.

Our Power Factor Correction Services
At AFER Inc. we increase your power factor by assessing your current electrical system and installing power factor correction capacitors, which act as reactive power generators and reduce the total amount of current your system draws from the grid.
The typical payback period for investments in our well-designed power factor correction systems is between 3-18 months. Our capacitor banks and power factor correction equipment have a life expectancy of over 10 years, allowing you to save significant money over time.
This graph represents the summary of a yearly customer utility bill before and after the addition of Power Survey power factor correction equipment: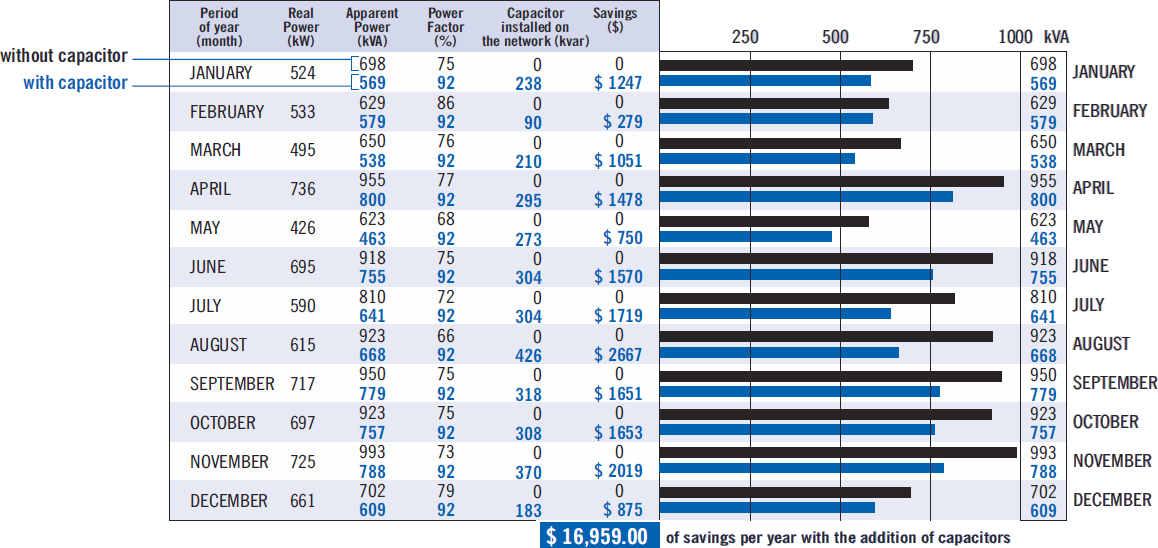 Thursday, June 9, 2016
We are pleased to receive this recommendation from Fire Inspired Foods on the performance of the KVAR Hydro Saver.
"When I first did business with Gordon I was the Director of Operations at Boston Pizza and he introduced me to the Eco-Clamp.
These clamps are put on a gas line and ensures a cleaner gas and deteriorates carbon build up on the pipes. Pretty good memory eh Gordon! These we put into our only corporate location and we saved anywhere from 10-20% and that's a fact. These were put into over 30 Boston Pizza's and keep in mind they were newer buildings compared to our original 8, so we might save more.
Marco and team, I have seen this product in action and your flame will be bluer or hotter, so any equipment that runs on gas will operate better or hotter, so you'll need to temp the fryers everyday and keep an eye on the high of the flame when something is being sautéed etc."
Tony Pereira
Operating Partner
Fire Inspired Foods
May 27, 2016
Power Factor Savings at Tim Hortons
I am very pleased to announce that Paul Knight from Energy Solutions Now has received news back from several Tim Hortons location. Windsor is no longer paying penalties for being under the 90% Power Factor therefore lowering his Hydro bills along with Ottawa while showing a 95% Power Factor rose to a 100% Power Factor and is saving over 7% on his hydro bills. Great news Paul.
May 25, 2016

KVAR at Streetsville Arena
We are very pleased to hear the results of Streetsville Arena in Mississauga, Jeff had KVAR installed several years back and to date is still pleased with his results. Before KVAR was installed the Power Factor was around 82 % since KVAR has been installed the Power Factor has been over 90 % therefore taking away any Hydro Penalties and lowering Hydro usage and cost along with longer lasting motors.
May 7th, 2016

Your Carbon Footprint
AFER & KVAR continuously Increase Efficiency & Lower Hydro cost by using our highest quality parts with no maintenance required. Our capacitance increases the efficiency of all A/C motors which in turn reduces the peak demand and reduces the voltage. This also lowers the heat build up on all motors which then gives the motors a much longer life and automatically reduces your Carbon Footprint.
April 25, 2016
More AFER and KVAR Installations at Montana's
We are very pleased to announce that Tony Pereira of Fire Inspired Foods who has 10 Montana's has decided to install KVAR Hydro Savers and AFER Fuel Savers at all locations. Tony started with one location with our KVAR Hydro Savers and our AFER Fuel Savers and was so very pleased with the results, he decided to roll them out to all his locations.